| | |
| --- | --- |
| Posted by Kim Perry on July 2, 2015 at 3:00 PM | |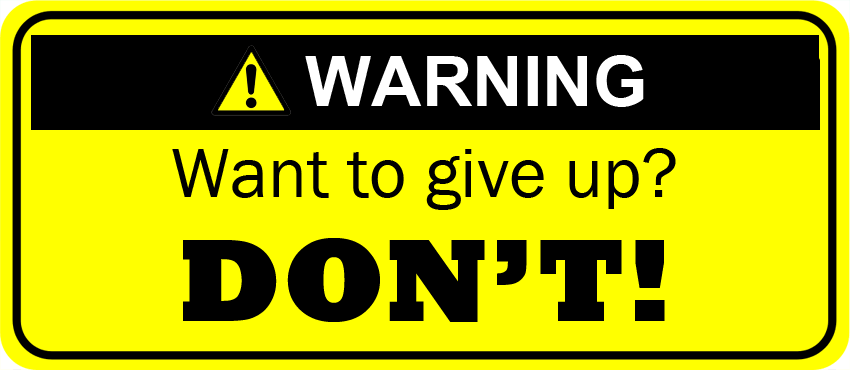 When you feel like giving up, ask yourself these questions first:
Are you hydrated? 
If not, have a glass of water.
Have you eaten in the past three hours?
If not, eat something with protein.
Have you showered in the past day?
If not, do it right now.
Have you taken a walk today?
Get up and move it. Even a stroll around the block can do wonders. And don't use the weather as an excuse. 
Go to a large store or the mall. You can even put on your favorite music and dance around a bit.
Have you said something encouraging to someone today?
Give someone a genuine complement. Let it come from the heart. 
Have you had a hug today?
If daytime: are you dressed?
 If not, put on clean clothes that aren't pajamas. Put on your favorite shirt or dress.
If nighttime: are you sleepy and fatigued but resisting going to sleep?
Put on pajamas, make yourself cozy in bed with the sound of falling rain, and close your eyes
for fifteen minutes-No electronic screens allowed. If you are still awake after that, you can get up again; no pressure.
Do you feel ineffective?
Pause right now and get something small accomplished.
Respond to an email, load the dishwasher, or make a goal for tomorrow.
Start a journal and fill it up with positive goals, dreams, favorite scriptures and affirmations.
Have you over-exerted yourself lately-physically, emotionally, socially, intellectually?
That can take a toll that lingers for days. Give yourself a break in that area, whether it's physical rest, alone time,
or relaxing with some silly entertainment.
Are you worrying or anxious about something?
Step back and breathe!
Talk to a therapist or a good friend...
or better yet, pray about it. Know that God can see you through
every season...even this one!
You have made it this far, and you will make it through. You are stronger than you think.
Categories: Life Synergy-Life Coaching